Magnetic Therapy for Fibromyalgia comes in the form of PEMF therapy (Pulsed Electromagnetic Field Therapy) or it's twin brother, repetitive Transcranial Magnetic Stimulation (rTMS). We recognized the effectiveness of Pulsed Electromagnetic Fields for Fibromyalgia back in 2002. We documented results in this area of research that predates all peer reviewed literature.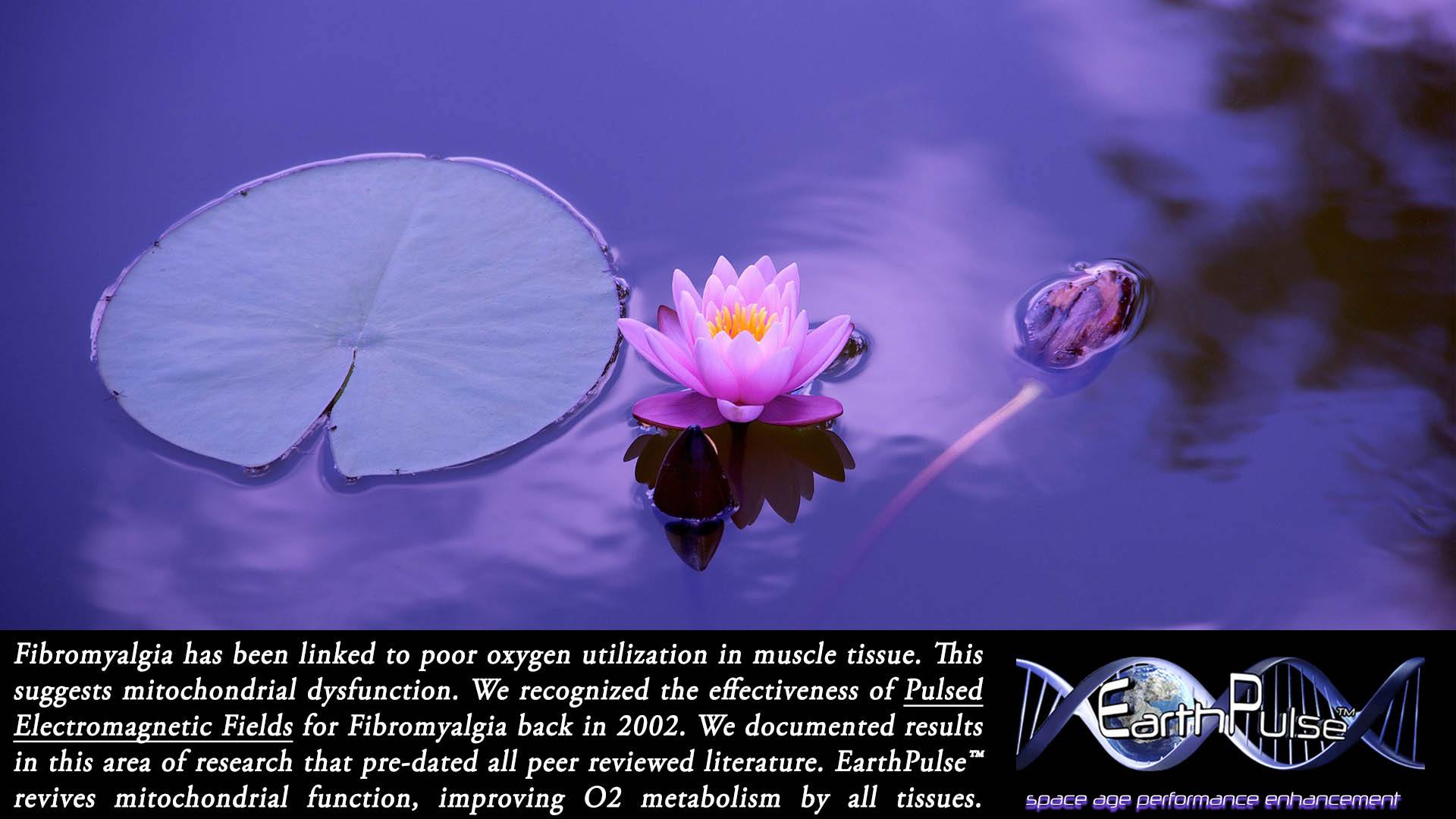 It was explained to me in 2005 by a prominent physician Dr. Norman Gay that Fibroymalgia was caused by low tissue oxygen. Dr. Norman Gay, was the former Minister of Health for the Bahamas, past president of the Caribbean Bodybuilding Federation, the Bahamas Olympic Committee, the Bahamas Confederation of Amateur Sports, and Chairman of the Bahamas Boxing Commission. He told me, since your system obviously has an effect upon oxygenation, it was mostly likely the reason that it was helping these people.
Our novel night-time regimen is particularly effective at enhancing sleep, relieving stiffness and improving flexibility. MoreATP is the most logical reason. Low tissue oxygen is not a result of cardiovascular issues but of dysfunction in the mitochondrial electron transport chain (oxygen metabolism). The effect of which draws oxygen supply from the blood too quickly resulting in low blood and tissue oxygen, and produces inordinate amount of oxidative waste. EarthPulse™ is particularly helpful in conditions where people become easily tired or "winded".
Pulsed Electromagnetic Field (PEMF) therapy has proven to be effective on Pain for 6 decades particularly in Eastern European research. PEMF Therapy is highly effective in a diverse range of therapeutic applications with no side-effects or adverse reactions. Got Pain?…PEMF is probably the answer to your prayers. We offer a 90 day money back guarantee and quite frankly don't care what you suffer from. It either meets or exceeds your expectations or return it within 30 – 90 days.
We've had a few returns from clients with Fibromyalgia over 14 years, but rarely. Pulsed electromagnetic fields (PEMF) and repetitive transcranial magnetic stimulation (rTMS) for fibromyalgia has not been researched much until 2011. Currently, there is momentum building in the research area and quite of bit of published research in 2013 but solely in repetitive transcranial magnetic stimulation (rTMS).
In October 2015, Spaulding Rehabilitation Hospital in Cambridge, Massachusetts found beneficial effect in 50% of the double-blinded study participants. tDCS is working on the pain signal in the brain. Nighttime PEMF on the other hand works on the cause of the pain.
EarthPulse™ PEMF devices are superior as they support higher oxygen levels in the body.  Get to the root of the cause of the fibro pain by  rising blood and tissue oxygen. Nightly, full-body application is likely the key to long term success.  When it works, it works really well and you've got at least a 90% statistical probability of success. If not simply return it.
Frequency specificity in pulsed electromagnetic field (PEMF) therapy is currently being investigated in the West after Eastern European research found particular frequency (10 Hz) highly effective more than 4 decades ago.
Frequency specific microcurrent has gotten some good coverage. A search on Google for "frequency specific microcurrent" AND fibromyalgia yields some 5400 results. A Google search for "pulsed electromagnetic field therapy" AND fibromyalgia yields some 6800 results. PEMF supplies microcurrent to tissues far more efficiently than "hands-on" microcurrent. Find out what you're missing.
We have good reason to believe that it is the frequency specificity of microcurrent systems that produces the miraculous effects on fibro sufferers. EarthPulse™ has been using 9.6 Hz since its inception based upon the most effective Eastern European studies.
EarthPulse™ is modeled after Eastern Europe's most effective and well tested frequencies and wave-forms. It is highly adaptable system that is primarily designed for nighttime use which is far more efficient and convenient than mat-type systems. If it doesn't exceed your expectations (for any purpose), just return it for a full refund (less shipping charges).
Rarely do peer-reviewed PEMF studies prove less effective than placebo;…when they do, frequency, amplitude, wave-form and duration of application should be suspect.
See also our Migraine Bibliography, Pain bibliography.
The magnetic therapy Fibromyalgia bibliography is offered for your education only and not intended as promotional material for our pulsed magnetic technology.
EarthPulse™ PEMF & Electric Stimulation Disclaimer:
Peer-reviewed studies, customer reviews, videos, papers and links provided [the Information] on this website site and others we link to are not offered to suggest or imply that you will achieve similar results with use of the EarthPulse™ magnetic field supplementation device and methods. The information is for reference purposes only and not intended to recommend our pulsed electromagnetic field device system as a drug or as a diagnosis for any illness or disease condition; nor as a product to eliminate disease or other medical condition.
The Information has not been evaluated by U.S. Food and Drug Administration. Worldwide, there are no governmental health agencies that recognize a need to supplement natural magnetic fields using pulsed electromagnetic fields.
The Information and opinions provided on our website are based upon reputably published journals and first hand experience. The Information and opinions expressed anywhere on our web site or in printed materials or in videos are never to be construed as medical advice. This website, company, and its contractors, employees, organisers, participants, practitioners, promoters, or affiliates or its suppliers and vendors make no warranty of any kind, expressed or implied with regard to the Information or how you choose to use it.
Magnetic Therapy Bahamas, Ltd. / Sleep Tech Intl. / EarthPulse Technologies, LLC make no medical claims, real or implied, as to benefit of our device and methods. Our product is not intended to be used to diagnose, treat, cure or prevent any disease. Readers should consult appropriate health professionals on any matter relating to their health and well-being. Readers accept all responsibility for self-experimentation.
EARTHPULSE IS STRICTLY A PERFORMANCE ENHANCEMENT TOOL GUARANTEED TO ENHANCE SLEEP AND PHYSICAL & MENTAL PERFORMANCE IN 90 DAYS OR YOUR MONEY BACK. WE MAKE NO OTHER CLAIMS REAL OR IMPLIED. SHOULD YOU NOT GET RESULTS EXCEEDING YOUR EXPECTATIONS, YOUR ONLY RECOURSE IS TO BEGIN RETURN PROCESS OF GOODS FOR FULL REFUND BETWEEN 30 AND 90 DAYS.
Fibromyalgia Studies of Interest
Arthritis Res Ther. 2012 Nov 1;14(6):R236. doi: 10.1186/ar4079.
Noninvasive optical characterization of muscle blood flow, oxygenation, and metabolism in women with fibromyalgia.
Shang Y, Gurley K, Symons B, Long D, Srikuea R, Crofford LJ, Peterson CA, Yu G.
INTRODUCTION:
Women with fibromyalgia (FM) have symptoms of increased muscular fatigue and reduced exercise tolerance, which may be associated with alterations in muscle microcirculation and oxygen metabolism. This study used near-infrared diffuse optical spectroscopies to noninvasively evaluate muscle blood flow, blood oxygenation and oxygen metabolism during leg fatiguing exercise and during arm arterial cuff occlusion in post-menopausal women with and without FM.
METHODS:
Fourteen women with FM and twenty-three well-matched healthy controls participated in this study.
CONCLUSIONS:
Our results suggest an alteration of muscle oxygen utilization in the FM population.
Exercise capacity and oxygen recovery half times of skeletal muscle in patients with fibromyalgia.
Dinler M, Kasikcioglu E, Akin A, Sayli O, Aksoy C, Oncel A, Berker E.
Rheumatol Int. 2007 Jan;27(3):311-3. Epub 2006 Sep 9.
PMID: 16964478
Med Hypotheses. 2006;66(5):950-2. Epub 2006 Jan 10.
Reduced tolerance of exercise in fibromyalgia may be a consequence of impaired microcirculation initiated by deficient action of nitric oxide.
Kasikcioglu E1, Dinler M, Berker E.
Although the underlying mechanism responsible for muscular fatigue and exercise intolerance remains to be elucidated, it is reported two major mechanisms, central and peripheral hypothesis. As a peripheral mechanism, there are few reports on abnormalities of the microcirculation in patients with fibromyalgia. The key point to note is that ischemia associated with a modest decline in tissue oxygen causes muscle fatigue. It has been shown that have been found low muscle levels of phosphates and abnormalities in microcirculation in fibromyalgia.
---
Magnetic Therapy Fibromyalgia – Pulsed Electromagnetic Field Therapy PEMF / rTMS & Electric Stimulation Bibliography
To read the original source, use Pubmed link or search for Title of the citation
– End Fibromyalgia and Pulsed Electromagnetic Field Therapy / rTMS Bibliography –