Pulsed magnetic therapy osteoporosis research shows pulsed electromagnetic field therapy PEMF  enhances bone matrix density and promotes bone and cartilage regeneration. PERIOD…end of story. Studies that fail we like to call "red-herrings", or studies designed to fail either due to frequency, wave-form, amplitude, and/or duration of application parameters being incorrect. 
Bone healing (delayed union) was PEMF's first FDA approval (depression its second FDA approval) until more recent approvals of *pulsed radio frequency patches for post operative pain and edema. Pulsed electromagnetic fields have been in widespread use in Eastern Europe since the 1970's. *We believe peer reviewed studies make a convincing argument that pulsed radio frequency causes detrimental cellular defects, regardless of what they may do for edema and pain.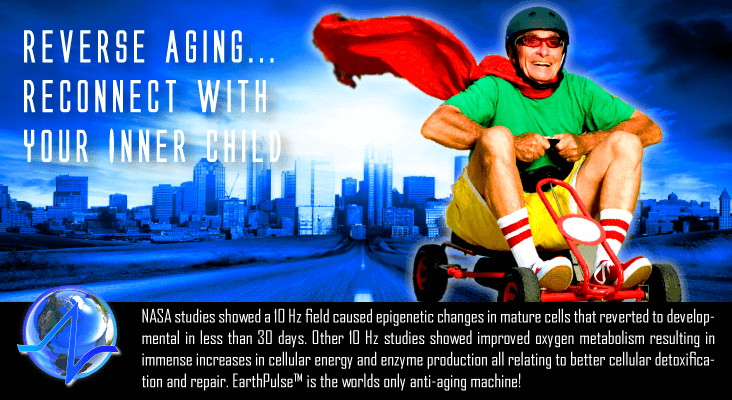 Pulsed electromagnetic field therapy research has proven beyond any reasonable doubt, that pulsed magnetic therapy osteoporosis is safe, effective and at least as effective as osteoporosis drugs for improving bone density or bone cements and surgical intervention for healing bone non-unions.
EarthPulse™ under your mattress at night to improve sleep or at your desk chair in Alert-Mode while while taking a regular standard dosage of high quality bone supplement like Bone-Up from Jarrow Laboratories, will result in gain of several % in bone density in 6 months guaranteed or your money back.
Far more density that you can get from supplementation alone or with pharmacological interventions. Pulsed magnetic therapy osteoporosis will not result in remarkable bone density gain without a good form of calcium in the diet; however, it will generally arrest loss of bone density without supplementation. While increased bone density was one of the first discovered effects of pulsed electromagnetic field therapy, it happens to be one of the least researched fields. Seems like it's a "been there, done that" sort of thing. More than enough evidence in the literature for an inquiring mind to make an educated decision. 
EarthPulse™ pulsed electromagnetic field is modeled after Eastern Europe's most effective and well tested PEMF frequencies and wave-forms, in a very adaptable and portable system that is primarily designed for nighttime use. If it doesn't exceed your expectations for any purpose, just return it for a full refund (less your shipping charges).
---
Magnetic Therapy Osteoporosis Using Pulsed Electromagnetic Field PEMF Research Bibliography
To read the original source, use Pubmed and search for Title of the citation
J Bone Miner Res. 2014 Oct;29(10):2250-61. doi: 10.1002/jbmr.2260.
Pulsed electromagnetic fields partially preserve bone mass, microarchitecture, and strength by promoting bone formation in hindlimb-suspended rats.
Jing D1, Cai J, Wu Y, Shen G, Li F, Xu Q, Xie K, Tang C, Liu J, Guo W, Wu X, Jiang M, Luo E.
---
Bioelectromagnetics. 2014 Sep;35(6):426-36. doi: 10.1002/bem.21862. Epub 2014 Aug 6.
Pulsed electromagnetic fields stimulate osteogenic differentiation in human bone marrow and adipose tissue derived mesenchymal stem cells.
Ongaro A1, Pellati A, Bagheri L, Fortini C, Setti S, De Mattei M.
---
Bioelectromagnetics. 2014 Sep;35(6):396-405. doi: 10.1002/bem.21855. Epub 2014 Apr 24.
Pulsed electromagnetic field treatment enhances healing callus biomechanical properties in an animal model of osteoporotic fracture.
Androjna C1, Fort B, Zborowski M, Midura RJ.
---
BMC Musculoskelet Disord. 2014 Aug 11;15:271. doi: 10.1186/1471-2474-15-271.
Osteogenic differentiation of amniotic epithelial cells: synergism of pulsed electromagnetic field and biochemical stimuli.
Wang Q, Wu W, Han X, Zheng A, Lei S, Wu J, Chen H, He C, Luo F, Liu X1.
---
PLoS One. 2013 Nov 14;8(11):e79377. doi: 10.1371/journal.pone.0079377. eCollection 2013.
Pulsed electromagnetic fields improve bone microstructure and strength in ovariectomized rats through a Wnt/Lrp5/β-catenin signaling-associated mechanism.
Jing D1, Li F, Jiang M, Cai J, Wu Y, Xie K, Wu X, Tang C, Liu J, Guo W, Shen G, Luo E.
---
Rheumatol Int. 2013 May;33(5):1135-41. doi: 10.1007/s00296-012-2499-9. Epub 2012 Sep 5.
Pulsed electromagnetic field stimulates osteoprotegerin and reduces RANKL expression in ovariectomized rats.
Zhou J, Chen S, Guo H, Xia L, Liu H, Qin Y, He C.
---
Effects of PEMF and glucocorticoids on proliferation and differentiation of osteoblasts.
Esmail MY, Sun L, Yu L, Xu H, Shi L, Zhang J.
Electromagn Biol Med. 2012 Dec;31(4):375-81. doi: 10.3109/15368378.2012.662196. Epub 2012 Jun 7.
---
Pulsed electromagnetic fields stimulation affects BMD and local factor production of rats with disuse osteoporosis. Shen WW, Zhao JH.
Bioelectromagnetics. 2010 Feb;31(2):113-9. doi: 10.1002/bem.20535.
---
Circadian rhythm affects the preventive role of pulsed electromagnetic fields on ovariectomy-induced osteoporosis in rats.
Jing D, Shen G, Huang J, Xie K, Cai J, Xu Q, Wu X, Luo E.
Bone. 2010 Feb;46(2):487-95. doi: 10.1016/j.bone.2009.09.021. Epub 2009 Sep 25.
---
Effects of pulsed electromagnetic fields on the mRNA expression of RANK and CAII in ovariectomized rat osteoclast-like cell. Chen J, He HC, Xia QJ, Huang LQ, Hu YJ, He CQ.
Connect Tissue Res. 2010;51(1):1-7. doi: 10.3109/03008200902855917.
---
[Effect of pulsed electromagnetic field on the changes of osteoclasts in ovariectomized rats bone marrow culture in vitro].
Bai MH, Ge BF, Wei Z, Bai J, Cheng ZF.
Zhongguo Gu Shang. 2009 Oct;22(10):727-9. Chinese.
---
Bioelectromagnetics. 2009 May;30(4):251-60.
Effect of pulsed electromagnetic field on the proliferation and differentiation potential of human bone marrow mesenchymal stem cells.
Sun LY, Hsieh DK, Yu TC, Chiu HT, Lu SF, Luo GH, Kuo TK, Lee OK, Chiou TW.
Department of Life Science and Graduate Institute of Biotechnology, National Dong Hwa University, Hualien, Taiwan, Republic of China.
---
Electromagn Biol Med. 2007;26(3):153-65. Links
Cytokine release from osteoblasts in response to different intensities of pulsed electromagnetic field stimulation.
Li JK, Lin JC, Liu HC, Chang WH.
Bone Tissue Engineering Research Lab, Center for Nano Bioengineering, Chung Yuan Christian University, Chung Li, Taiwan, Republic of China.
---
Pulsed electromagnetic fields accelerate apoptotic rate in osteoclasts.
Chang K, Chang WH, Tsai MT, Shih C.
Department of Biomedical Engineering, Chung-Yuan Christian University, Chung-Li,
Tao-Yuan, Taiwan. 
Selective control of cell function by applying specifically configured, low-energy, time-varying electromagnetic fields (EMF) has added a new, exciting dimension to biology and medicine. In our study, we investigated the effect of pulsed  electromagnetic fields (PEMF) on induction of osteoclasts apoptosis. The findings  suggest that PEMF have the ability to speed up apoptosis of osteoclasts derived from primary osteoblasts and bone marrow cells cocultures. This in vitro study, therefore, could be considered as groundwork for in vivo PEMF applications  on some osteoclasts-associated bone diseases such as osteoporosis.
---
Sheng Wu Yi Xue Gong Cheng Xue Za Zhi. 2005 Dec;22(6):1168-70.
[Effects of the PEMFs of different intensity on BMD and biomechanical properties of rabbits' femur]
[Article in Chinese]
Luo E, Jiao L, Shen G, Wu XM, Xu Q, Lu L.
Research Center of Intelligent Information Processing, School of Electronic Engineering, Xidian University, Xi'an 710071, China. 
The effects of the pulsed electromagnetic fields (PEMFs) of different intensity on bone mineral density (BMD) and biomechanical properties of rabbits' femur had been studied. Compared with control group, the values of BMD, maximum load and structural rigidity of magnetic group were significantly increased (P < 0.05).
In addition, there was significant increase in values of BMD and structural rigidity in group 10 x 10(-4) T in comparison with group 20 x 10(-4) T (P< 0.05). PEMFs is effective in improving BMD and biomechanical properties. It is  favorable to the treatment and prevention of osteoporosis.
---
Indian J Exp Biol. 2003 Jun;41(6):581-6.
Effects of low level pulsed radio frequency fields on induced osteoporosis in rat bone.
Jayanand, Behari J, Lochan R.
311, School of Environmental Sciences, Jawaharlal Nehru University, New Delhi 110067, India.
Effect of modulated pulsed electromagnetic fields on induced osteoporosis in  rat femur and tibia resulted in statistically significant increase in bone mineral  density, and deceleration in bone resorption process. 
---
Bioelectromagnetics. 2003 Apr;24(3):189-98.
Pulsed electromagnetic fields prevent osteoporosis in an ovariectomized female rat model: a prostaglandin E2-associated process.
Chang K, Chang WH.
Department of Biomedical Engineering, Chung-Yuan Christian University, Chung-Li.
Taiwan, Republic of China.
These experiments demonstrated that extremely low intensity, low frequency, single pulse electromagnetic fields significantly suppressed the trabecular bone loss and restored the trabecular bone structure in bilateral
ovariectomized rats. We, therefore, conclude that PEMF may be useful in the prevention of osteoporosis.
---
Rheum Dis Clin North Am. 2000 Feb;26(1):51-62, viii.
Electromagnetic fields and magnets. Investigational treatment for musculoskeletal disorders.
Trock DH.
Yale University School of Medicine, New Haven, Connecticut, USA.
Certain pulsed electromagnetic fields (PEMF) affect the growth of bone and cartilage in vitro, with potential application as an arthritis treatment. PEMF stimulation is already a proven remedy for delayed fractures, with potential clinical application for osteoarthritis, osteonecrosis of bone, osteoporosis, and wound healing. The mechanisms underlying the use of PEMF and magnets  are discussed.
---
J Spinal Cord Med. 1999 Winter;22(4):239-45.
The effect of pulsed electromagnetic fields on osteoporosis at the knee in individuals with spinal cord injury.
Garland DE, Adkins RH, Matsuno NN, Stewart CA.
Rancho Los Amigos Medical Center, Downey, California 90242, USA.
The purpose of this study was to determine the effects of pulsed electromagnetic fields on osteoporotic bone at the knee in individuals with chronic spinal injury. The authors believe a local as well as a systemic response was created.
---
Boll Soc Ital Biol Sper. 1993 Jul-Aug;69(7-8):469-75.
Effects of pulsed magnetic fields in the therapy of osteoporosis induced by ovariectomy in the rat.
Zati A, Gnudi S, Mongiorgi R, Giardino R, Fini M, Valdre G, Galliani I, Montagnani AM.
Institute Orthopaedic Rizzoli, University of Bologna.
This paper presents preliminary results on the effects of pulsed electromagnetic fields (EMF) in the therapy of post menopausal osteoporosis in female rats.  Treatment lasting one hour per day for 4 months showed that the pulsed EMF are able to slow down or stop bone mass loss.
---
J Bone Miner Res. 1990 May;5(5):437-42.
Bone density changes in osteoporosis-prone women exposed to pulsed electromagnetic fields (PEMFs).
Tabrah F, Hoffmeier M, Gilbert F Jr, Batkin S, Bassett CA.
University of Hawaii School of Medicine, Straub Clinic and Hospital, Honolulu.
20 subjects were exposed to PEMF 10 h daily for a period of 12 weeks. Bone  mineral densities of the treated radii measured increased significantly in the immediate area of the field during the exposure period. A similar but weaker 
response occurred in the opposite arm, suggesting a "cross-talk" effect on the  nontreated radii, from either possible arm proximity during sleep or very weak  general field effects. The data suggest that properly applied PEMFs, if scaled for  whole-body use, may have clinical application in the prevention and treatment  of osteoporosis.
---
J Bone Joint Surg Am. 1989 Mar;71(3):411-7.
Prevention of osteoporosis by pulsed electromagnetic fields.
Rubin CT, McLeod KJ, Lanyon LE.
Musculo-Skeletal Research Laboratory, Department of Orthopaedics, State
University of New York, Stony Brook 11794.
Using an animal model, we examined the use of pulsed electromagnetic fields, induced at a physiological frequency and intensity, to prevent the osteoporosis that is concomitant with disuse.  The data suggests that short daily periods of exposure to appropriate electromagnetic fields can beneficially influence the behavior of the cell populations responsible for bone-remodeling in the absence of mechanical loading.
---
J UOEH. 1988 Mar 1;10(1):31-45.
The effect of long-term pulsing electromagnetic field stimulation on experimental osteoporosis of rats.
Mishima S1.
Author information
Abstract
The author performed experiments in order to investigate what biological effect on the bone would be produced by long-term pulsing electromagnetic field (PEMF) systemic stimulation. In some of the mature female rats used as experimental animals, bilateral ovariectomy and right sciatic neurectomy were performed in order to make a model osteoporosis. PEMF stimulation was produced by repetitive pulse burst (RPB) waves at a positive amplitude of 25 mV, negative amplitude of 62.5 mV, burst width of 4.2 ms, pulse width of 230 microseconds and 12 Hz, with the magnetic field strength within a cage being set at 3-10 Gauss. PEMF stimulation over 6 months did not produce any effects on the physiologically aged bones. PEMF stimulation also did not produce any effects on losed cortical bone in osteoporotic hindlegs. On the other hand, an increase of bone volume and bone formation activity was observed in the cancellous bone of osteoporotic hindlegs. These findings suggested that PEMF stimulation exerted a preventive effect against bone loss of osteoporotic hindlegs. Furthermore, an observed increase in bone marrow blood flow seemed to be related with this increase of bone volume and bone formation activity.
---
End Osteoporosis and Pulsed Electromagnetic Field Therapy Bibliography
[pb_builder]
Help us share the knowledge