v5Equine
Our v.5Equine system is the only sports performance enhancement and longevity system on Earth for horses and camels; at less than 1/3 the price of other equine systems that are strictly designed for short symptomatic application. No other system but EarthPulse™ has been designed w/ the proper frequencies and for long enough exposure time to tune the mitochondria for maximum metabolic efficiency. Choose the Basic Controller for Equines or Camels; choose the Pro Controller for use with humans. Two humans can use this 4 magnet system in large king sized bed for adequate head to toe exposure (though you'll have to agree on one sleep setting).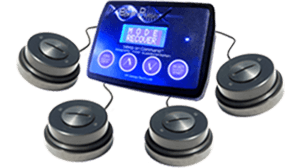 Choose Controller - Basic (Manual Freq Mode) or Pro (10 Programs)
90-day money back guarantee

The EarthPulse™ v.5Equine system is the world's only equine (or camel) performance enhancement and longevity system. 4 Magnets are fixed to 4 quadrants of your summer or winter blanket (as shown) over the hips and shoulders using included male velcro sticky patches and female sided velcro zipper pouches. Alternatively, one or two coils can be used all night in local application by fixing with Ace-type bandage or included pouch & strap accessories; to rear legs using included magnet extension cables. See our v5Pro if you're a Jockey or owner seeking better sleep, better performance and super human recovery.
Simply secure the pouches with included stick on velcro to 4-quadrants of blanket over shoulders and hips (cross stitching velcro patch is necessary for performance); hang the included controller and power supply holster around animal's neck and plug magnet leads into the tw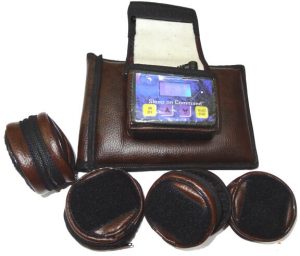 o splitter cables. Boot the controller through the clear panel on holster, choose first program RECOVER-MODE, set timer to 12 hours. Nearly dusk till dawn use on a fully charged battery. During the day, move the entire holster to the office for charging. Battery can be charged without removing controller or battery from holster. Daily inventory of many systems is easily accomplished by numbering the transport pack and the corresponding charger in the office, where they remain stationary plugged into power strips in numerical order.
Manual Frequency Mode; Frequency range all under 14.1 Hz

9 other programs that are included in our v.5 Pro controllers (for use with humans); see our
PEMF Therapy device v.5
or
v.5Pro
for details on these programs.
EarthPulse™ v.5Equine System Includes:
One Controller (two output jacks); - Choice of Basic Controller with Single Manual Frequency Mode (For Equines & Camels) or Pro Controller with 10 Program modes (For Humans)
Two magnet splitter cables;
Four  electromagnets;
Two 2 Meter long magnet extension cables (so rear magnets can reach rear hoofs when necessary);
One 100-240 volt AC mains to 12 volt DC Power Supply;
One intl. pin adapter for country of residence;
One v.5Pro clear-sided zipper travel case;
One padded transportable holster and neck-strap for EarthPulse™ controller and Voltaic battery (battery sold separately);
One short L-tipped power cable to avoid cable clutter from battery to controller;
4 magnet holder pouches w/female velcro face on one side and belt loops on the other;
4 sets rugged male velcro sticky-sided patches to fix to blanket;
2 additional nylon straps of different lengths;
6 nylon cable controllers