Pulsed Electromagnetic Fields (PEMF) Therapy as described by Prof. Photios Anninos utilizes pT-MT (picoTelsa Magnetic Therapy) routinely to reduce symptoms of epilepsy, Parkinson's disease, depression, MS, migraine headache without side effects or expected/unexpected adverse reactions.
Photios Anninos Pico-Tesla Magnetic Field Therapy History:
Professor Anninos discovered back in late 80's and early 90's that brainwave signature of parkinsons and epileptic individuals had abnormalities which correspond to a particular frequency range around 8 Hz. He developed a highly accurate method of measuring these abnormalities (Magnetoencephalography), then tuned a very low intensity pulsed electromagnetic field therapy device (of his design) customized for each individual's brainwave signature.
100s of patients suffering from Parkinson's disease & non-trauma induced epilepsy have been treated with this unique and safe  technique by Dr. Photios Anninos at the University of Thrace, Department of Medicine, Neural Modeling and Biomagnetism Laboratory of Medical Physics, Greece.
There is a method to get the measurements done locally and sent to Anninos for design of the magnetic field therapy helmet device.  Prof. Anninos still sees clients at his Greek facility.  We've followed Professor Anninos' research since summer 2000 and met 4 people who had consulted Professor Anninos in Greece.  We've talked at length and seen video tape of his picotesla electromagnetic field therapy process.
If you've got Parkinson's disease, MS, Epilepsy, migraine headache, cluster headache, ADD, ADHD, or suffer with depression; we recommend you consult P. Anninos for his very unique style of pulsed electromagnetic field therapy if you can afford the time and expense of travel. Once you get a brainwave scan as per his specs, you can order the TMS  therapy helmet.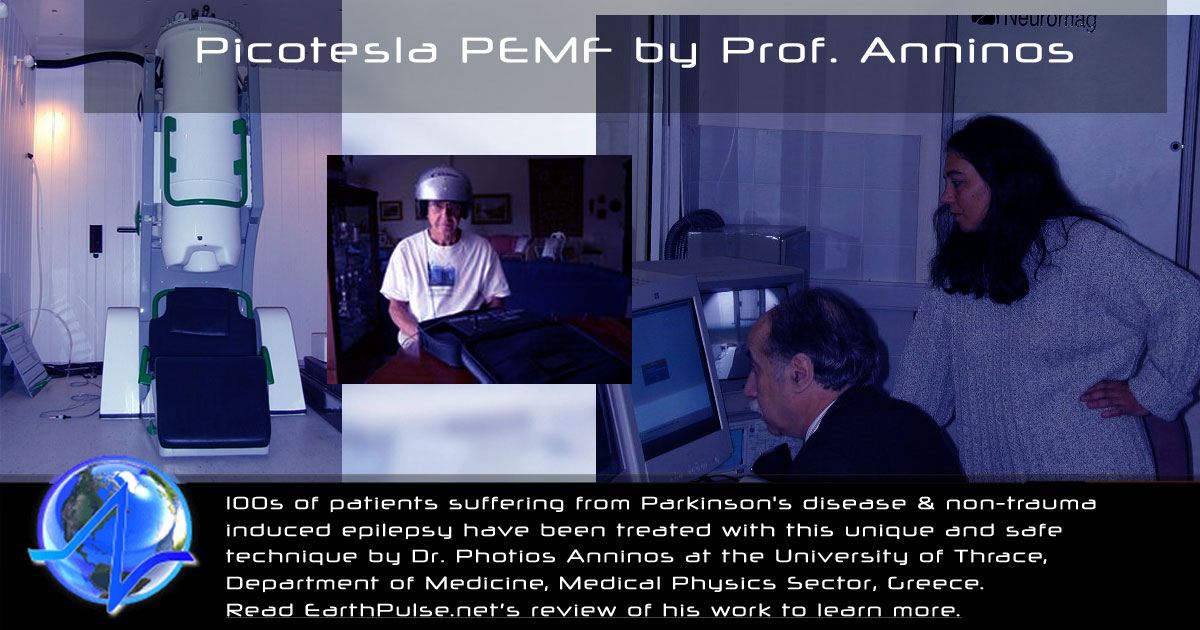 Sandyk and Anninos Pico-Tesla Magnetic Field Therapy
Sandyk published with Anninos PA and Tsagas N during 1991, researched simultaneously on frequency specific abnormalities in EEG of subjects diagnosed with multiple sclerosis (MS), Parkinson's disease, migraine headache, cluster headache, depression, ADD, ADHD, and Gilles de Tourette's syndrome.
Dr. Sandyk research bibliography covers 20 years and 500 studies associated with central nervous system disorder, specifically the decline of neurotransmission and neuroendocrine function and particularly the pineal gland.
Dr. Sandyk has published more than 90 studies utilizing extremely small (picoTesla) electromagnetic fields to reverse symptoms of many central nervous system disorders. Proved that migraine was due to electromagnetic anomalies long before it became fashionable to discuss them as such.
Both Aninnos and Sandyk have developed safe and very effective electromagnetic field therapy devices and methods which provide quick, amelioration of substantial portion of patients' symptoms of MS, epilepsy, Parkinson's, migraine headache, cluster headache, depression, ADD, ADHD, Tourette's syndrome and others by their described balancing of patients' brain wave abnormalities and by reviving melatonin and dopamine synthesis in a vast majority of their patients.
We feel very strongly that the effects of both Anninos and Sandyk (and Jacobson) are due to use of frequency use of 7 & 8 Hz which is very near 9.6 or 10 Hz and its direct effect on the mitochondrial ATP production and subsequently improved melatonin and dopamine synthesis due to the longer exposure times than traditional rTMS (repetitive Trancranial Magnetic Stimulation).
EarthPulse PEMF devices propose similar effects with routine nighttime application of a range of frequencies (1-14 Hz) designed to enhance the sleep process and simultaneously affect cell metabolism so that more energy is available for all of affected regions in brain and endocrine tissues.
Bibliographies contain several hundred pulsed electromagnetic field therapy citations linked directly to PubMed a service of the U.S. National Library of Medicine and the U.S. National Institutes of Health. These studies are offered for your education only and are not intended as promotional material.
See also Jacobson JI, a pioneer of electromagnetic field therapy to treat Parkinson's, Alzheimer's and epilepsy besides Anninos & Sandyk.
---
Professor Photios Anninos Research Bibliography:
Notice neural net studies in the 1970s; the shift toward neural mapping of epileptic foci utilizing MEG and SQUID in the 1980's' and the development of magnetic therapy for epilepsy, Parkinson's disease and age related memory deficit in 1990. In April 1992, notice the discovery that pineal calcification may be an underlying cause of several different central nervous system (CNS) disorders; and that electromagnetic field therapy may in fact reverse this calcification and the neurological deficits caused by it.
1: Anninos PA, Giatromanolaki A, Kotini A, Sivridis L, Koutlaki N, Anastasiadis P. Magnetic field profiles in normal human breast during the menstrual cycle. Clin Exp Obstet Gynecol. 2007;34(1):47-9. PMID: 17447638
2: Antoniou PE, Anninos PA, Piperidou H, Adamopoulos A, Kotini A, Koukourakis MI, Sivridis E. Non linear analysis of magnetoencephalographic signals as a tool for assessing malignant lesions of the brain: first results. Brain Topogr. 2004 Winter;17(2):117-23. PMID: 15754877
3: Anastasiadis P, Anninos PA, Lüdinghausen MV, Kotini A, Galazios G, Limberis B. Fetal magnetocardiogram recordings and Fourier spectral analysis. J Obstet Gynaecol. 1999 Jul;19(4):390-3. PMID: 15512338
4: Anninos PA, Kotini A, Anastasiadis P. The chaos theory for differentiating fetal biomagnetic brain activity in normal and pre-eclamptic pregnancies. J Obstet Gynaecol. 1999 Jul;19(4):365-9. PMID: 15512332
5: Anninos PA, Anastasiadis P, Kotini A. The use of non-linear analysis for differentiating the biomagnetic activity in ovarian lesions. J Obstet Gynaecol. 1999 May;19(3):280-5. PMID: 15512296
6: Anastasiadis P, Anninos PA, Kotini A, Limberis B, Galazios G. Fetal magnetoencephalogram recordings and Fourier spectral analysis. J Obstet Gynaecol. 1999 Mar;19(2):125-9. PMID: 15512249
7: Kotini A, Anninos PA, Adamopoulos A, Koutlaki N, Galazios G, Anastasiadis P. Fetal magnetocardiogram recordings and power spectra analysis in biomagnetic arrhythmic signals. J Obstet Gynaecol. 2001 Jul;21(4):368-72. PMID: 12521828
8: Anastasiadis P, Anninos PA, Kotini A, Avgidou K, Galazios G, Liberis V. SQUID biomagnetometry of the uterine arteries in normal and pre-eclamptic pregnancies. J Perinat Med. 2001;29(5):433-41. PMID: 11723845
9: Anninos PA, Kotini A, Koutlaki N, Adamopoulos A, Galazios G, Anastasiadis P. Differential diagnosis of breast lesions by use of biomagnetic activity and non-linear analysis. Eur J Gynaecol Oncol. 2000;21(6):591-5. PMID: 11214617
10: Anninos PA, Adamopoulos AV, Kotini A, Tsagas N. Nonlinear analysis of brain activity in magnetic influenced Parkinson patients. Brain Topogr. 2000 Winter;13(2):135-44. PMID: 11154103
11: Anninos PA, Anastasiadis P, Kotini A. Nonlinear analysis of biomagnetic signals recorded from the umbilical artery in normal and pre-eclamptic pregnancies. Eur J Obstet Gynecol Reprod Biol. 1999 Aug;85(2):159-65. PMID: 10584629
12: Anninos PA, Tsagas N, Jacobson JI, Kotini A. The biological effects of magnetic stimulation in epileptic patients. Panminerva Med. 1999 Sep;41(3):207-15. PMID: 10568117
13: Manolas MG, Stamoulos TD, Anninos PA. Differences in human visual evoked potentials during the perception of colour as revealed by a bootstrap method to compare cortical activity. A prospective study. Neurosci Lett. 1999 Jul 23;270(1):21-4. PMID: 10454136
14: Anninos PA, Anastasiadis P, Kotini A. Nonlinear Analysis of Biomagnetic Signals Recorded from Uterine Arteries. J Matern Fetal Investig. 1998 Dec;8(4):178-184. PMID: 9892752 [PubMed – as supplied by publisher]
15: Anninos PA, Jacobson J, Tsagas N, Adamopoulos A. Spatiotemporal stationarity of epileptic focal activity evaluated by analyzing magnetoencephalographic (MEG) data and the theoretical implications. Panminerva Med. 1997 Sep;39(3):189-201. PMID: 9360421
16: Sandyk R, Anninos PA. Attenuation of epilepsy with application of external magnetic fields: a case report. Int J Neurosci. 1992 Sep;66(1-2):75-85. PMID: 1304572
17: Sandyk R, Tsagas N, Anninos PA, Derpapas K. Magnetic fields mimic the behavioral effects of REM sleep deprivation in humans. Int J Neurosci. 1992 Jul-Aug;65(1-4):61-8. PMID: 1341692
18: Sandyk R, Anninos PA. Magnetic fields alter the circadian periodicity of seizures. Int J Neurosci. 1992 Apr;63(3-4):265-74. Review. PMID: 1304559
19: Sandyk R, Anninos PA, Tsagas N, Derpapas K. Magnetic fields in the treatment of Parkinson's disease. Int J Neurosci. 1992 Mar;63(1-2):141-50. PMID: 1342026
20: Sandyk R, Tsagas N, Anninos PA. Melatonin as a proconvulsive hormone in humans. Int J Neurosci. 1992 Mar;63(1-2):125-35. PMID: 1342024
21: Sandyk R, Anastasiadis PG, Anninos PA, Tsagas N. The pineal gland and spontaneous abortions: implications for therapy with melatonin and magnetic field. Int J Neurosci. 1992 Feb;62(3-4):243-50. PMID: 1305609
22: Sandyk R, Anastasiadis PG, Anninos PA, Tsagas N. Is postmenopausal osteoporosis related to pineal gland functions? Int J Neurosci. 1992 Feb;62(3-4):215-25. Review. PMID: 1305608
23: Thodis E, Anninos PA, Pasadakis P, Adamopoulos AV, Panagoutsos S, Vargemezis V. Evaluation of CNS-function in CAPD patients using magnetoencephalography (MEG): comparison with hemodialysis patients. Adv Perit Dial. 1992;8:181-4. PMID: 1361782
24: Sandyk R, Anastasiadis PG, Anninos PA, Tsagas N. Is the pineal gland involved in the pathogenesis of endometrial carcinoma. Int J Neurosci. 1992 Jan;62(1-2):89-96. Review. PMID: 1342018
25: Sandyk R, Anninos PA, Tsagas N, Derpapas K. Pineal calcification and anticonvulsant responsiveness to artificial magnetic stimulation in epileptic patients. Int J Neurosci. 1991 Oct;60(3-4):173-5. PMID: 1787046
26: Anninos PA, Tsagas N, Sandyk R, Derpapas K. Magnetic stimulation in the treatment of partial seizures. Int J Neurosci. 1991 Oct;60(3-4):141-71. PMID: 1787045
27: Sandyk R, Anninos PA, Tsagas N. Age-related disruption of circadian rhythms: possible relationship to memory impairment and implications for therapy with magnetic fields. Int J Neurosci. 1991 Aug;59(4):259-62. Review. PMID: 1955287
28: Sandyk R, Anninos PA, Tsagas N. Magnetic fields and the habenular complex. Int J Neurosci. 1991 Aug;59(4):263-6. PMID: 1683343
29: Sandyk R, Anninos PA, Tsagas N. Magnetic fields and seasonality of affective illness: implications for therapy. Int J Neurosci. 1991 Jun;58(3-4):261-7. Review. PMID: 1365047
30: Anninos PA, Tsagas N. Localization and cure of epileptic foci with the use of MEG measurements. Int J Neurosci. 1989 Jun;46(3-4):235-42. PMID: 2506144
31: Anastasiadis PG, Anninos PA, Koutsougeras GC, Liberis VA, Galazios GC, Sivridis EL. Biomagnetic measurements in uterine leiomyomas using a superconducting quantum interference device (SQUID). Int J Gynaecol Obstet. 1989 May;29(1):47-9. PMID: 2566528
32: Anninos PA, Vartzopoulos I, Razis N, Anogianakis G. Evaluation of epileptic patients by means of magnetoencephalography. Int J Neurosci. 1989 Apr;45(3-4):283-9. PMID: 2744970
33: Anninos PA, Cook ND. Neural net simulation of the corpus callosum. Int J Neurosci. 1988 Feb;38(3-4):381-91. PMID: 3372153
34: Anogianakis G, Anninos PA. Localization of epileptiform foci by means of MEG measurements. Int J Neurosci. 1988 Jan;38(1-2):141-9. PMID: 3356498
35: Anninos PA, Anogianakis G, Lehnertz K, Pantev C, Hoke M. Biomagnetic measurements using squids. Int J Neurosci. 1987 Dec;37(3-4):149-68. PMID: 3692698
36: Anninos PA. A neural model theory leading to kindling effect of epilepsy. Int J Neurosci. 1987 Oct;36(3-4):177-98. PMID: 3667107
37: Anninos PA, Kokkinidis M, Hoke M, Pantev C, Lehnertz K, Lütkenhöner B. MEG measurements with SQUID as a diagnostic tool for epileptic patients. Brain Res Bull. 1986 Apr;16(4):549-51. PMID: 3719383
38: Anninos PA, Argyrakis P, Skouras A. A computer model for learning processes and the role of the cerebral commissures. Biol Cybern. 1984;50(5):329-36. PMID: 6477976
39: Anninos PA, Zenone S, Cyrulnik RA, Elul R. Encoding of visual information: correlation of EEG response to intracellular response. Brain Res. 1982 Jul 22;244(1):182-5. PMID: 7116166
40: Anninos PA, Zenone S. A neural net model for the alpha-rhythm. Biol Cybern. 1980;36(4):187-91. PMID: 7370363
41: Papadopoullos MS, Anninos PA, Zenone S. Memory topology of neural nets. J Theor Biol. 1979 Oct 22;80(4):505-35. PMID: 232203
42: Anninos PA, Cyrulnik R. A neural net model for epilepsy. J Theor Biol. 1977 Jun 21;66(4):695-709. PMID: 881853
43: Tetenes PJ, Anninos PA. Filling of microelectrodes: an expedient solution. Brain Res Bull. 1977 Jan-Feb;2(1):55-6. PMID: 861772
44: Leake B, Anninos PA. Effect of connectivity on the activity of neural net models. J Theor Biol. 1976 May 21;58(2):337-63. PMID: 940330
45: Cyrulnik RA, Anninos PA, Marsh R. Complex symptomatology simulated by unstructured neural nets. Can J Neurol Sci. 1974 Feb;1(1):17-22. PMID: 4434264
46: Anninos PA, Elul R. Effect of structure on function in model nerve nets. Biophys J. 1974 Jan;14(1):8-19. PMID: 4811818
47: Anninos PA. Evoked potentials in artificial neural nets. Kybernetik. 1973 Jul;13(1):24-9. PMID: 4747254
48: Anninos PA. Electromagnetic fields generated from neuronal activity. TIT J Life Sci. 1973;3(1):15-8. PMID: 4768727
49: Anninos PA. Cyclic modes in artificial neural nets. Kybernetik. 1972 Jul;11(1):5-14. PMID: 5052990
50: Anninos PA. Mathematical model of memory trace and forgetfulness. Kybernetik. 1972 Mar;10(3):165-7. PMID: 4336534
51: Anninos PA, Beek B, Csermely TJ, Harth EM, Pertile G. Dynamics of neural structures. J Theor Biol. 1970 Jan;26(1):121-48. PMID: 5411107
---